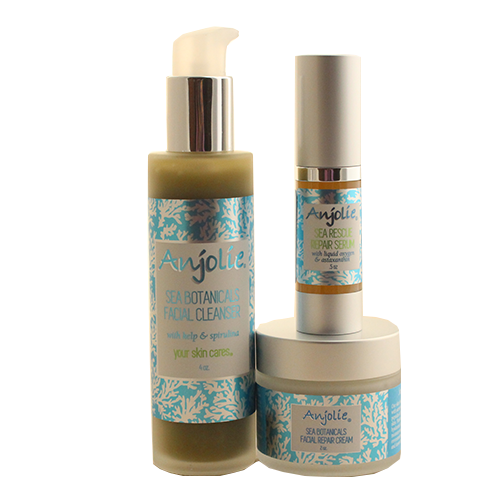 This set contains our bestselling skincare trio. You get our Sea Rescue Repair Serum, Facial Repair Cream & our Sea Botanical Facial Cleanser. Total of 3 products.

SEA RESCUE REPAIR SERUM
Our powerful serum contains liquid oxygen to breathe life back into the skin. Liquid oxygen gives the skin radiance, reduces inflammation and promotes collagen production. Astaxanthin, one of the most powerful antioxidants, protects the skin and feeds it with super nutrients.
INGREDIENTS: Organic oils of Helianthus annuus (Sunflower),Butyspermum parkii (Shea butter), Cocos nucifera (Virgin coconut butter), Squalane, Brassica oleracea (Broccoli); Perfluorodecalin & Perfluorohexane (Liquid oxygen), Vegetal Wax, Laminaria algae extract, Palmitoleic acid (Omega-7 from Nannochloropsis algae) Tetrahexyldecyl ascorbate (Vitamin C esters), Astaxanthin, Tocopherol (Vitamin E oil), natural citrus essential oil blend.
0.5 oz
FACIAL REPAIR CREAM (New Glass Jar)

Our anti-aging moisturizer is super concentrated with active marine botanicals and extracts to nourish, repair and hydrate the skin, leaving skin soft and supple. Rich in omega 3 fatty acids, plankton enzymes and hyaluronic acid that help skin to retain moisture and protect the skin from environmental damage. Improves skin tone and leaves the face super soft and nourished.
INGREDIENTS: Isotonic seawater, Porphyra red algae, Laminaria algae extract, Helianthus annuus (Sunflower) seed oil, Butyrospermum Parkii (shea butter), Cetearyl glucoside, Fucus vesiculosis algae extract, Glycerin, Cocos nucifera (virgin coconut butter),Palmitoleic acid (Omega-3 & Omega-7 & phytosterols from algae), Hexapeptide-11, Sodium hyaluronate, Resveratrol, L-ergothioneine, Xanthum gum, Chondrus crispus (Irish Moss-Arctic Peptide), Lonicera japonica (Honeysuckle), Tocopherol (Vitamin E oil), natural citrus essential oil blend
2 oz
SEA BOTANICAL FACIAL CLEANSER
Our Facial Cleanser is silky and nourishing with active marine botanicals. Laminaria seaweed provides sea nutrients to the skin and moisturizes, leaving your face fresh, clean and soft. Spirulina helps to reduce inflammation and improve skin elasticity. Gentle on sensitive skin and pH balanced. Can be used daily on all skin types.
INGREDIENTS: Deionized Water, Laminaria Algae paste, Decyl glucoside, Butyrospermum Parkii (Shea butter), Coconut Extract, Cetearyl Glucoside, Helianthus Annuus (Sunflower) Seed Oil, Spirulina Maxima, Lactobacillus, Leuconostoc (Radish root ferment), Tocopherol, Chondus crispus (Irish Moss), Xanthan gum, Natural Citrus Essential Oil Blend.
4 oz
So good
I bought the trio after using the SOS serum for some time to treat my eczematic hands (the SOS, in tandem with a good hand cream like O'Keeffe's Working Hands, heals better than any prescription medication I've tried). The trio is fabulous. I look forward to using it every day -- it leaves my face feeling nourished and energized.
Super skin set!
All 3 products work well together to provide moisture and skin renewal. I especially recommend the soap and serum, which I don't want to be without.
disappointed
First let me say, I do love the scent of the cleanser and moisturizer. The cleanser doesn't, unfortunately, remove makeup (I only use a Clarins foundation, no eye makeup). I love the ingredients in the moisturizer but I haven't seen any noticeable difference in my skin. The moisturizer doesn't absorb into my skin, and seems to 'peel' off. I wanted to like all of the products but I'm sad to report that they just don't work for my skin.
Love the product! Provides some super gentle exfoliation that takes away dead skin while mosturizing and exfoliating :) It actually helped eczema which was awesome!